It was my intention of attending Evolution's launch on Friday night but unfortunately for me I was way too tired to summon up the energy for yet another band launch, especially after a hectic work week. Lucky for all those looking out for photos
Carnivalscene.com
is first on the ball with a gallery from Friday night's debut of costumes.
From the photos I will say that Evolution is trying to be different with some of the costumes, like the green with the beaded skirt, while others are quite the familiar, like this one which was scrapped from Pulse 8 in 2007, migrated to Love Is with D Krewe and now it has appeared again as a section in Evolution!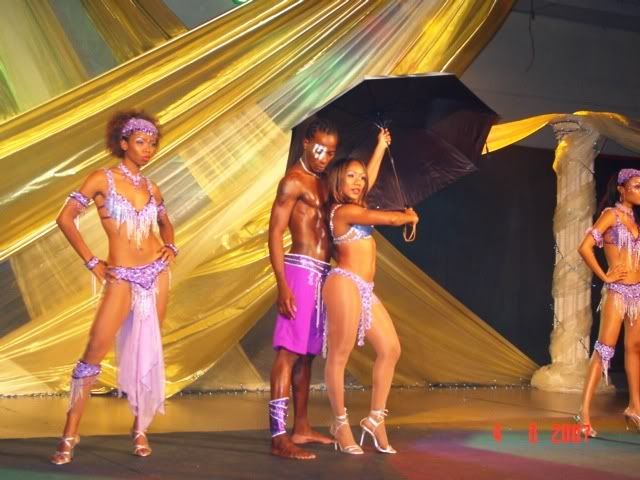 Of the 12 sections displayed the Orange and Blue has a very interesting frontline and is my favourite of the lot, the gold and red that we have seen in previews are also very nice as well as the pink (Rasberry Tart) section. All the others are neither here nor there with me, albeit pretty enough. I guess at this stage in the game when most of the other bikini bands have already launched it would take a really stunning costume to say "WOW". If rumour is right and the prices are all under $2500.00 then I think that would put them ahead of other bands that are, in my opinion, priced too high. I know many people who have experience with Carnival Nationz who are quite anxious to give this new band a try for 2008 and in that respect I wish them all the luck with their inaugural year in Trinidad as it is always great for masqueraders to have options.