Brian Mc Farlane's launch of his 2009 Carnival presentation "Africa - Her People, Her Glory, Her Tears", yesterday, had to be the most invigorating, exciting and unique band launches I have ever been to!
The entire band launch was shrouded in mystery as invited guests and media were only informed of the date and time of the launch with instructions that we were to assemble at the KFC Car park in Chaguaramas; from there were to be taken to an undisclosed location and advised to wear comfortable clothing and sneakers... did I mention that were to meet at
5:30am
!!
Leaving home in the wee hours of the early morning, we were greeted by showers which cleared up on the way to Port of Spain, alas the rain eventually followed our trail as ominous clouds could be seen as the Dawn broke. In spite of the threat of rain the production carried on as anticipated with only a slight delay in departure. At this time we were informed that we would be taken to two locations, one for breakfast, and upon reaching the second location we were to take a ten minute hike to the setting of "Africa". It took a while to digest the news of the ten minute hike, as one photographer in particular seemed shocked at the prospect of having to leave the comforts of modern transportation to actually walk!

Shuttle buses took us to from the car park to destination number one, a rustic cottage, the site of the movie Mystic Masseur, where we were treated to a "local breakfast of coconut bake, smoke herring, salt fish and porridge!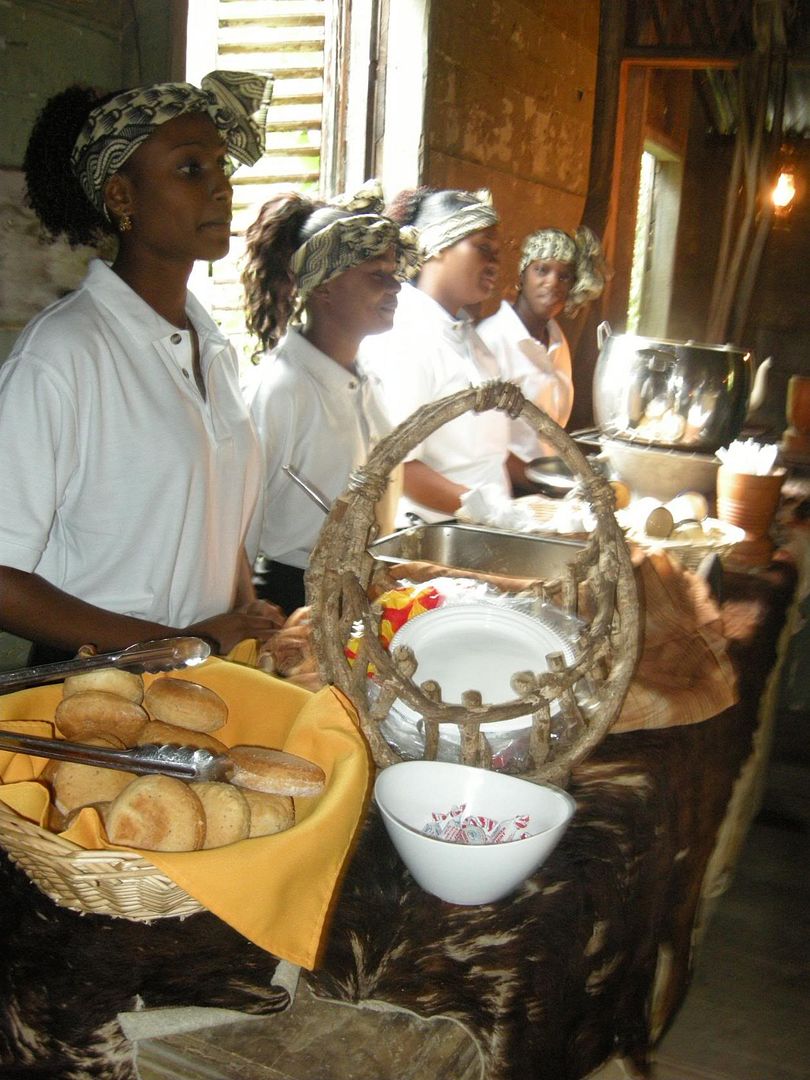 Candles and lanterns were used to illuminate the cottage which was decorated sparingly with antique items such as an iron, baskets, goat hide and burlap covered tables.

The breakfast provided was absolutely delicious and after everyone had enjoyed the meal were then taken a short distance way to destination number two; the hiking trail to Edith Falls.

At this time the rain started ever so gently sprinkling us as we made makeshift rain coats from garbage bags, also used to protect the camera equipment, and were provided with umbrellas. Approaching the trail I now saw the need for sneakers; imagine a muddy, leaf strewn path through bamboo and dense vegetation and that was the path we took.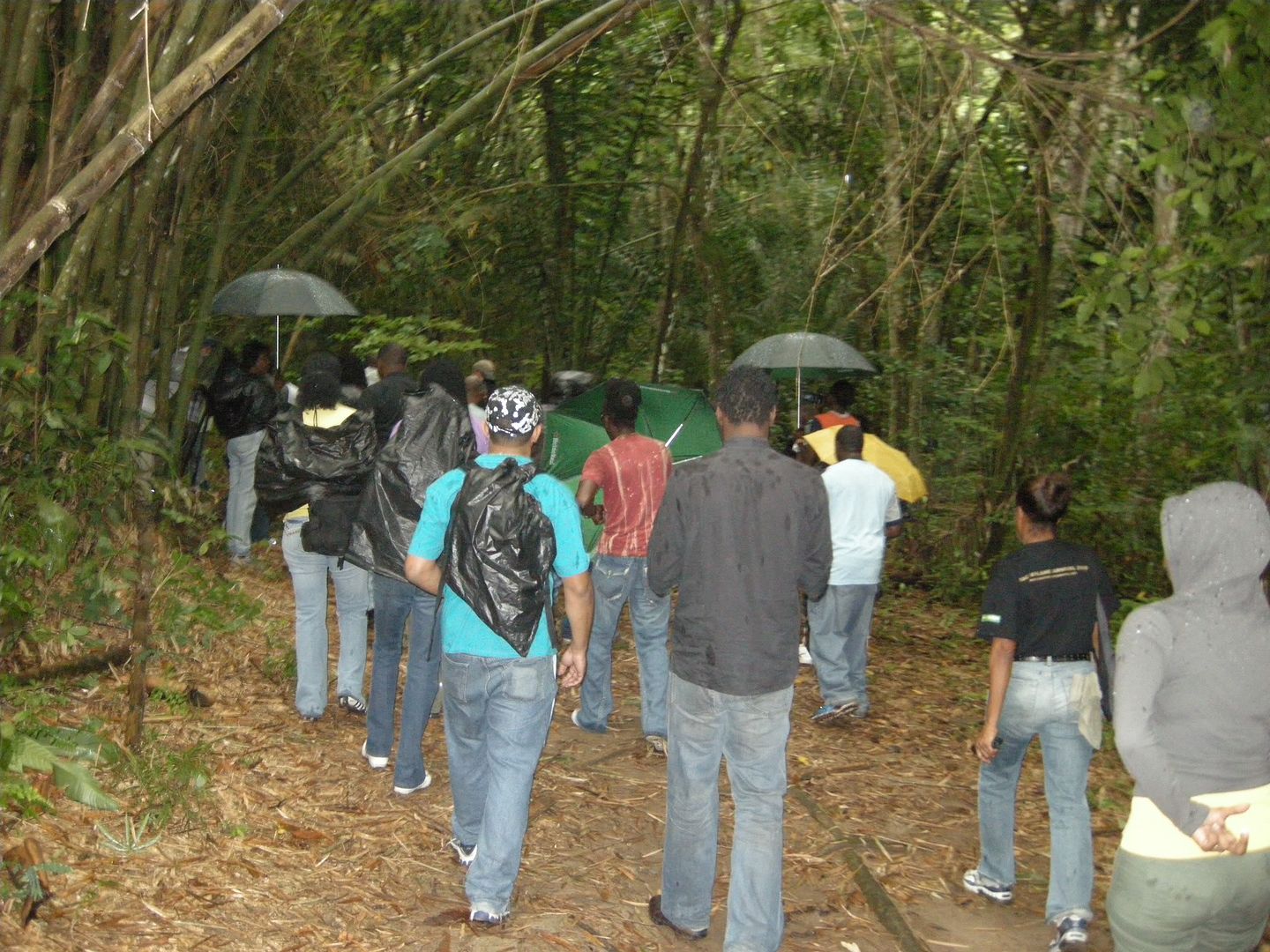 By this time the rain has started pouring from the skies, but thankfully the vegetation was so thick it also provided us with cover from a sure drenching. The walk itself was not laborious, even for someone like me who does not like the "nature stuff" it was an exciting adventure to be traipsing through a muddy forest early on a Saturday morning. A few minutes into the walk Afro Chic, who was walking ahead, turned and said she had just seen an "African" up ahead!! We came to a clearing in the forest and heard chanting and singing as a procession of "Africans" dancing and drumming made their appearance:

The drumming and dancing continued as the dancers gave a rousing energetic performance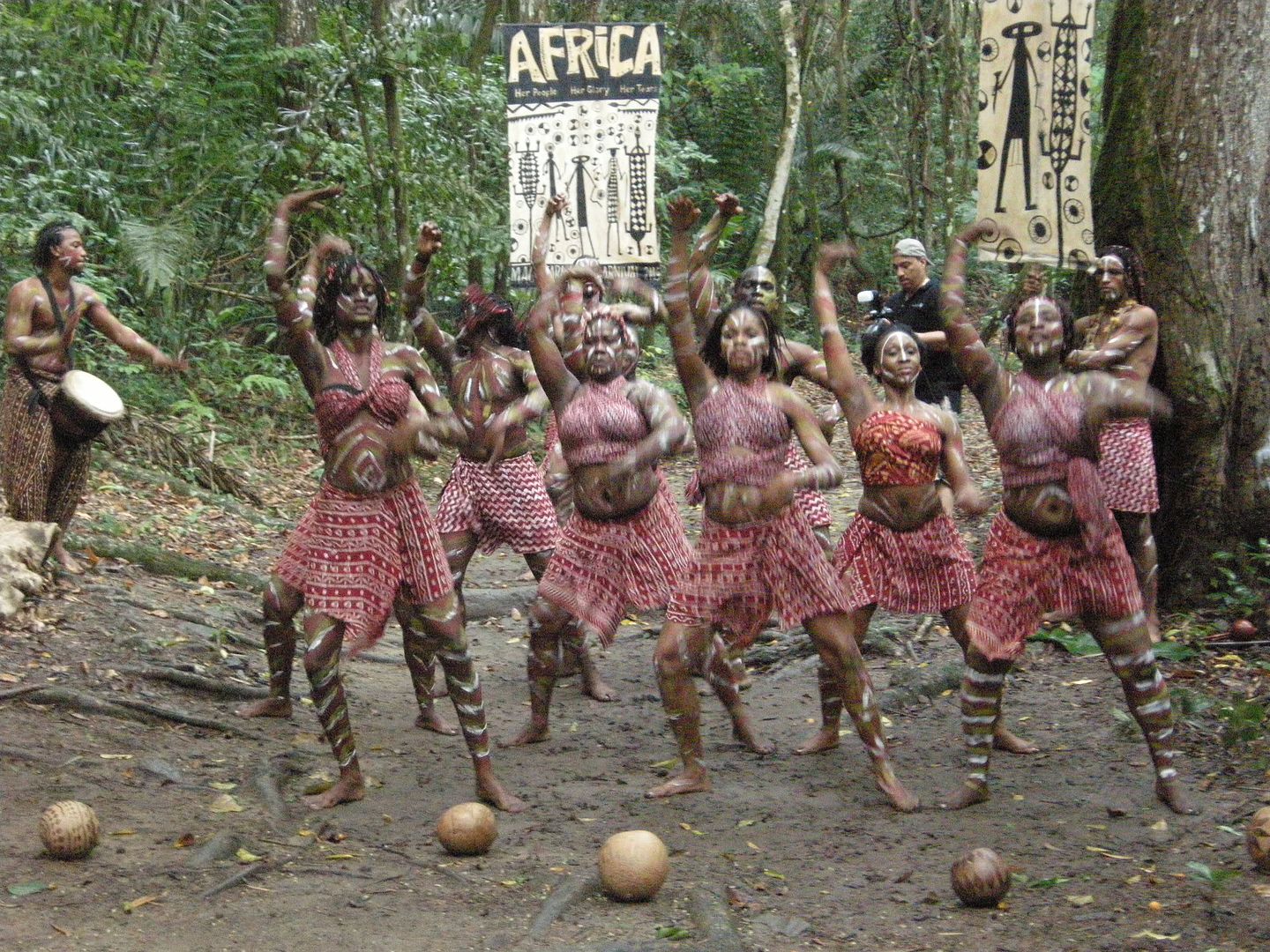 Dressed in robes and a mask symbolic of an Elephant, Mc Farlane appeared leading a succession of characters adorned with beautiful headpieces made from flowers, leaves, twigs and branches. "Africa, her people, her glory, her tears"...was the greeting Mc Farlane gave as he began to orate on the concept and theme of the band.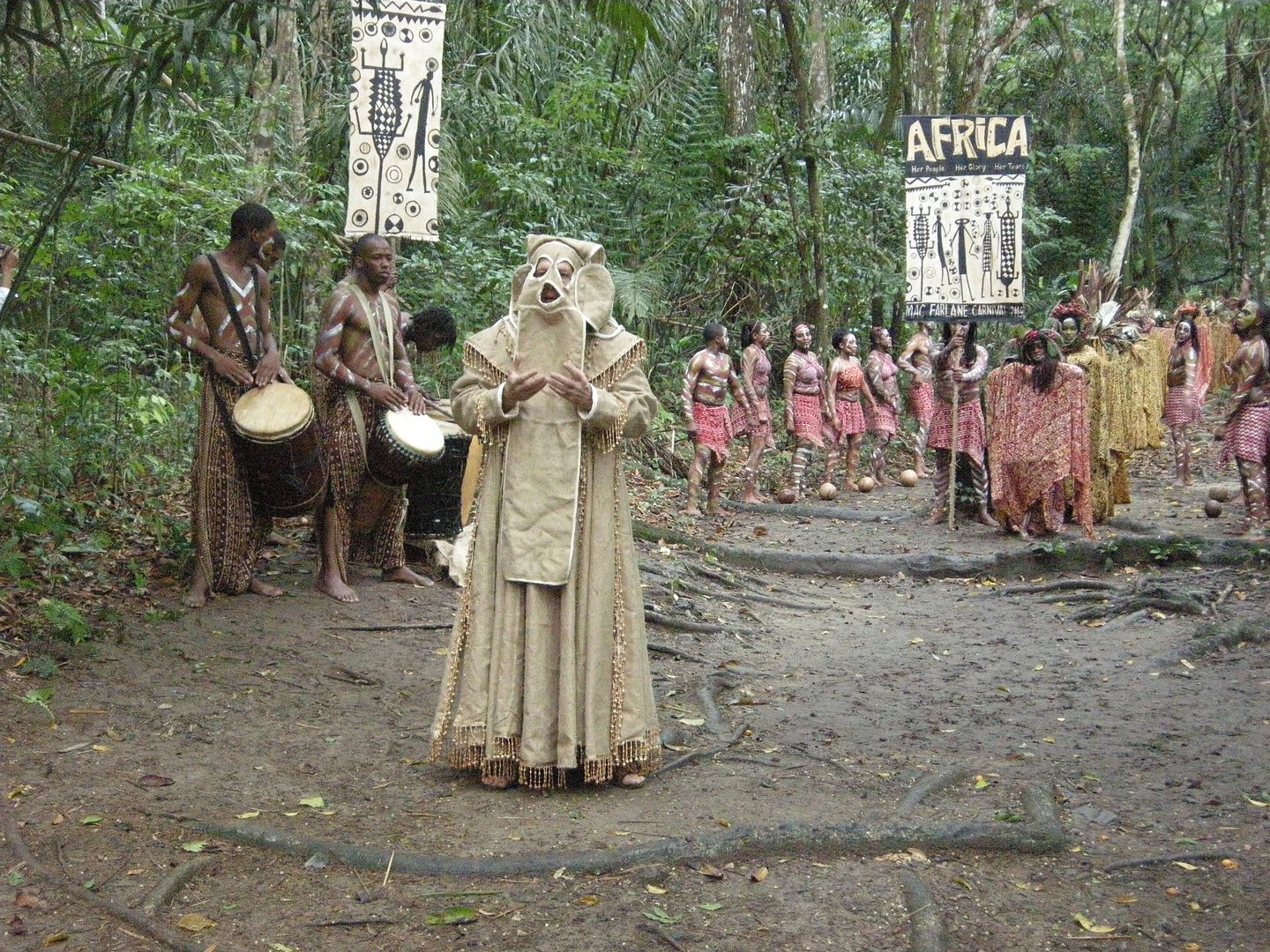 Africa, he intimated, was speaking to him since 4 years ago and after the 2007 presentation of "India the story of Boyie" he was compelled to follow that presentation with "Africa" but was worried it would be contrived as being too cliche. However, Mc Farlane said, he could no longer resist the call of Africa. Africa will be the largest presentation to date, with 19 sections, celebrating the 5th anniversary of Mc Farlane's debut into Carnival.

As the African's honour their ancestors so too shall Mc Farlane as the section "Zulu Tribe" is a tribute to George Bailey a pioneer in African mas. Also, a team from Mc Farlane's camp will be visiting various orphanages in Trinidad to lecture to kids on the beauty of the motherland of Africa as well as speak on HIV/AIDS awareness. Consequently, these children will be left with a brown cotton canvas which they will paint in their own "child like interpretation" of the future of Trinidad and Tobago. The last section of the band will evolve on stage to show the horror of HIV in Africa; at this time the mammoth tapestry of the children's art will be weaved throughout the band so that spectators can view the children's hope for not only, Africa but Trinidad and Tobago.

Soon, the sections were revealed as each character was disrobed revealing the artwork for each section:

Following this Mc Farlane lead us, and the procession, out of the forest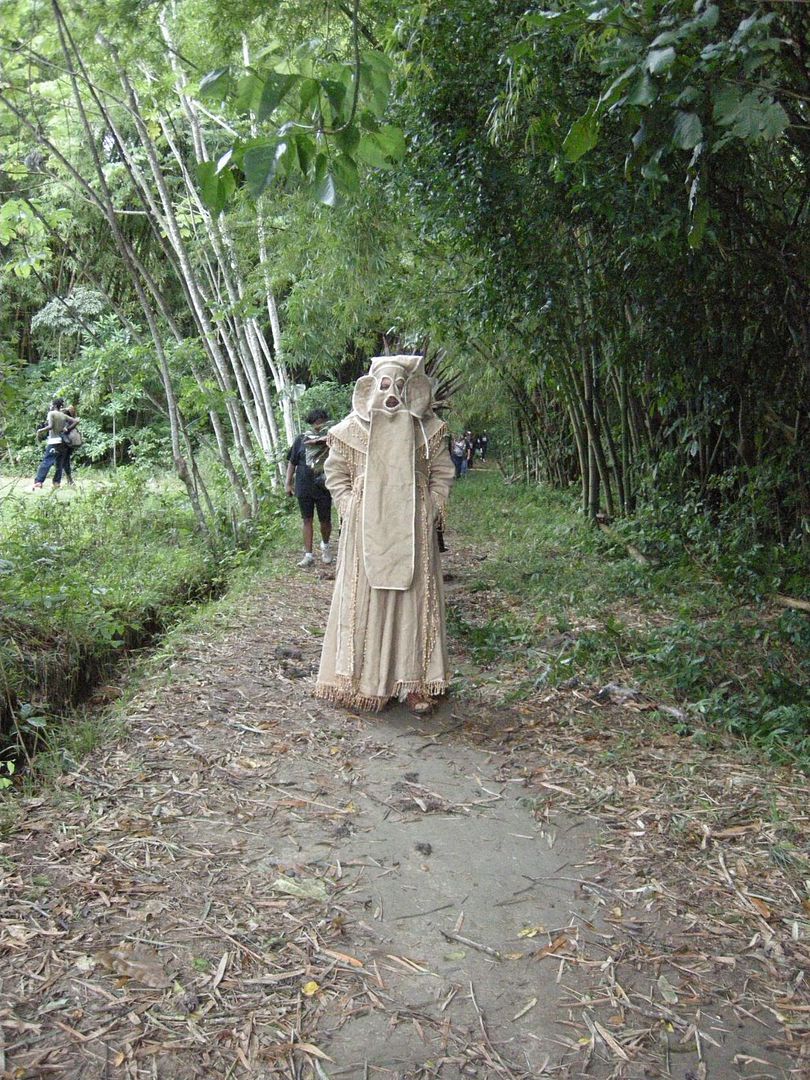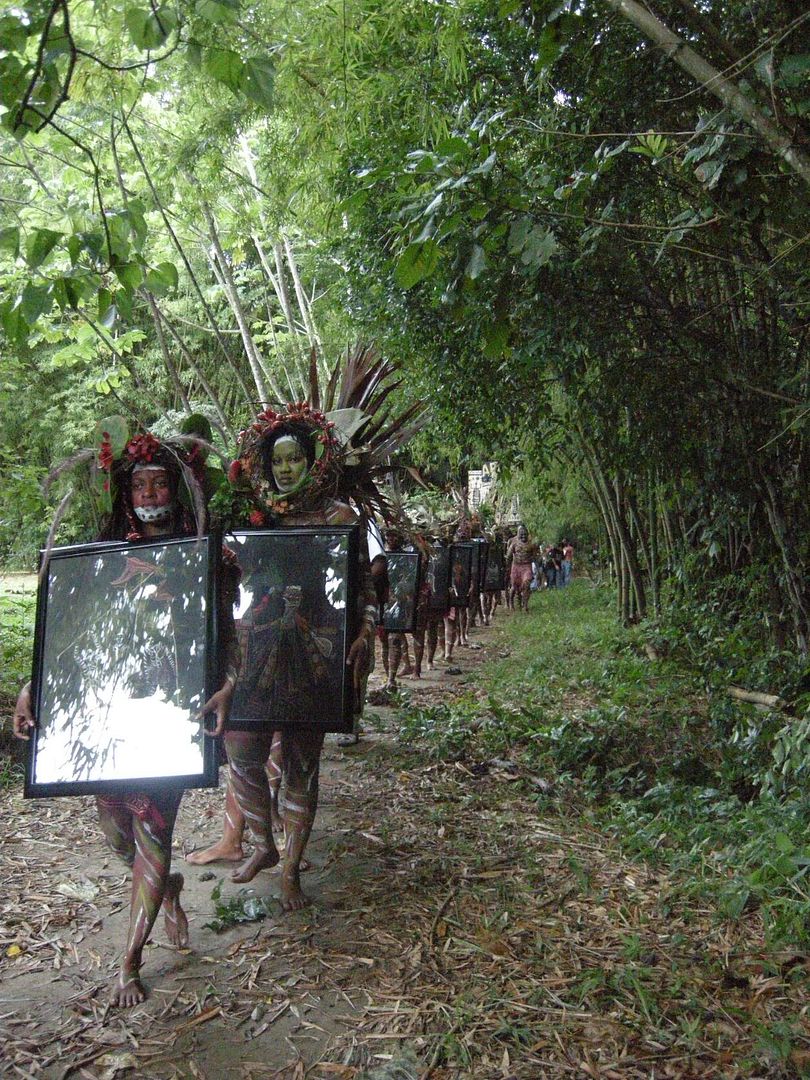 While we waited on the shuttle buses to return to take us back to the cottage, the procession continued their march .....
Back at the cottage we were again treated to more food, this time a signature African Dish, Yam,Channa and fish:

Everyone was then invited to feel free and approach the band leader for a discussion on his Africa:

After an incredibly exciting and interesting morning we made our departure, and I can honestly say that this is one presentation that I am excited to see on the road for 2009. Africa.. her people, her glory, her tears.
For the FULL Album of photos from the band launch
CLICK HERE
. Also you can click on any of the photos for a large view.
Please note, Mc Farlane's
website
is
UPDATED..
so you can take a look at
AFRICA..
.. and get prices for each section. Registration starts tomorrow, Monday October 13th.