Many thanks to blogger
SLK
for the following review of TRIBE's U.K. Band Launch last Saturday:
Hi Saucy!
So Saturday night I went to the launch of TRIBE in London, I thought you might like to hear.
So doors opened at 9 and registration was scheduled for 10.30 - 12. It was held at the Camden Centre, which is used for other soca events in London and is NOT popular as a venue. But anyway, we arrived a bit after 10, because although I wasn't registering, I wanted to see how it all went down! When we walked in - jeez the place was EMPTY! And I mean EMPTY! (I have photos) .The venue is this big square room and it felt like a school disco.
The room had been decorated with what looked like bamboo bird cages and white birds hanging from the ceiling, it looked pretty. Registration was set up behind a little barrier to one side, and although we were only there about 20 mins before it started, there was only 3 people in the queue!! There was a TV screen showing the costume photos from the booklet. (Including Flamingo) .
So anyway, we got a few drinks, and a few more, and then more.... it was an all inclusive after all! They had Trini alcohol too which we were very happy about. So the DJ announced the start of registration and people went forward to the tables. As this was behind a barrier I couldn't really work out what was going on, whether people were getting through. The queue built up a bit but I reckon no longer than about 50 people. (By this time the place was gradually getting busier).
There was a woman handing out numbered tickets to the people waiting. I was never aware of when it finished (blame the rum) but the queue seemed to go down and at some point they finished registration. We all carried on partying away .It was much busier by this point, and jugglers was doing a good job with the music. The free drinks helped too! Some bartender brought round a huge pan of the weakest tasting rum punch in the world to everyone.
The crowd was a lot of what you would describe as 'melanin challenged' people, very different to most soca fetes in London! I think this was also due to the very central location of the venue, and the fact it is carnival weekend! So at around 1.15, with not really any announcement, suddenly there was the first costume on stage! So I rushed forward to get a good view and photos! One by one models came on for each section, all backline except Brazilian Macaw which was frontline. I thought the models were great!
They each danced on stage (to soca, thank God!) for about 30 seconds each, as it was a small stage, loads of time to snap away! Blue Tanager, Hummingbird and Ruby Topaz were not there though. However they shouldn't have sent the poor girl modeling Pheasant out on stage like that though, the belt was so high it finished before her pantys start!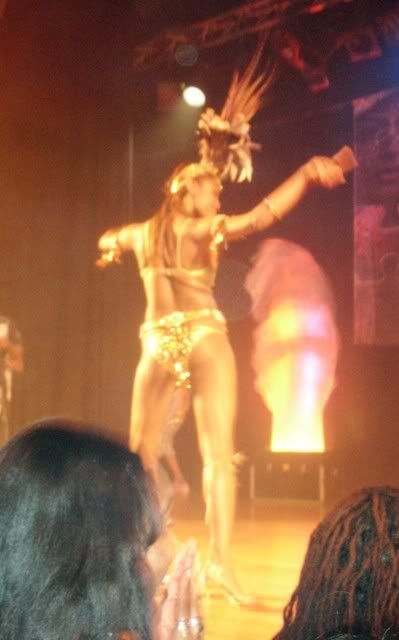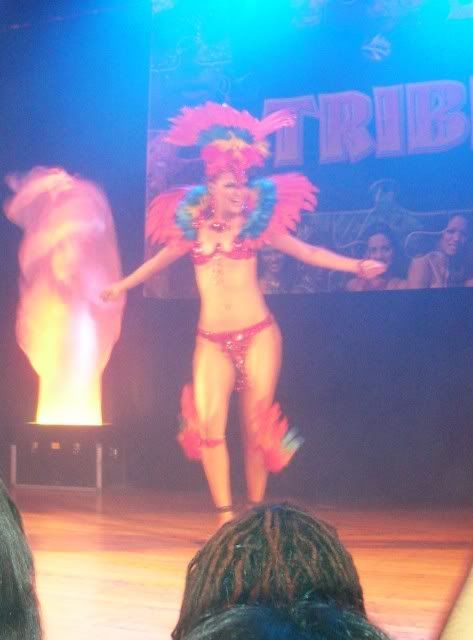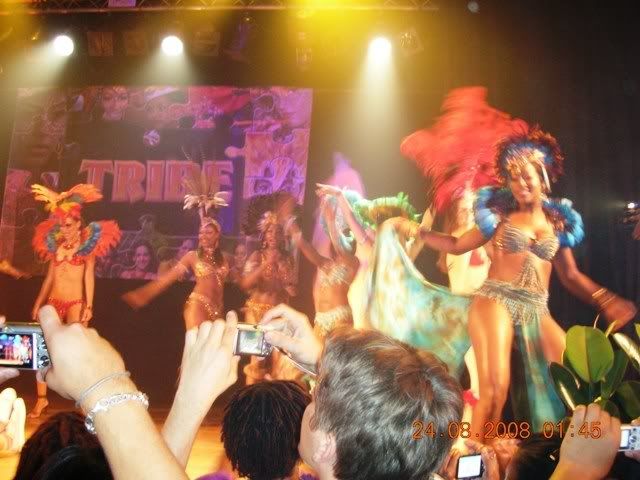 Then the stage show finished and shortly after Martin Jay (one of the biggest soca DJs in UK) came on stage to announce Fay Ann.
Fay Ann was great, we were right at the front going mad, I lost my shoe (but found it again!). Then Bunji came on, who was even better! Totally mashed up the place! Then it finished around 3.30, and we stayed around to say hi to Fay Ann and Bunji (we are such groupies!) who were lovely as ever. I also saw Machel, though he told the man next to me he was really busy and couldn't really take a photo! Then we went home, good night was had by all! Not quite as good as the Tribe fete in Trinidad, but hey!